How to select good Mechanic or Service Centre for your CAR?
It is always good to take your vehicle for maintenance and repair from time to time and you need to understand the difference between repairing and keeping maintained the vehicle from time to time. Routine maintenance items are those listed in your vehicle's owner's manual as part of the model's service schedule. They are intended to keep your vehicle best operating condition. Repairs are service that needs to be performed to fix a problem. Where you take your vehicle may depend on what needs to be done.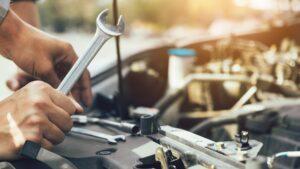 Does Your Car Need Repairs or Maintenance?
This is the most common question for all car owners is the car needs repair or maintenance. If you maintain your car and regularly service the car then the repairing cost for the vehicle is less or if you not checking the vehicle on regular basic then you need to pay more repairing cost. Decide whether you need your mechanic to perform routine maintenance or repair an automobile problem. There's an essential difference between the two. With regular maintenance, the mechanic will be looking at issues contained in your vehicle's service schedule. These items require regular servicing to keep your car in working order.
How to find a great car mechanic?
The best way to find the car mechanic is online. you can check the various car directories for the best reviews of the car repair shop or the mechanic of your local area. But identifying a mechanic you can trust for your car takes a lot more than letting your fingers do the walking. You must do a little old-fashioned sleuthing. There's no single clue to what makes a good repair shop, but here are some things you should look for. Always keep in touch with the mechanic who knows the car parts well.
Where to Go for Repair?
You can find the best repair shows on google along with the custom feedbacks. Look for information about local mechanics shop on google map. At Enhanced motors you can available all services at one place. We provide MTA approved mechanic and service. Get approved services and Pay later with after pay.
Is Your Preferred MTA-Certified?
The Motor Trade Association "MTA" represents automotive professionals and supports and … in fields as diverse as alternative fuels and collision repair. MTA Assured is an industry training organization in the automotive industry. With the help from MTA Assured, mechanics have been brought out and are working on your vehicles giving you a safe result.
Check Area of Specialization.
You should always look for area of specialization of the mechanic and type of services they offer. Specialization and Knowledge with respect to vehicle is very important. If the mechanic not aware about the facts and working on new technology, then it may damage the car functionality. So always check area of specialization.
Take Your Vehicle in for a Minor Service
You must need to be active to watch the small issues with car. You should not ignore the small issues and keep in touch with good mechanic time to time. You can contact Enhanced Motors for any issues related to your car.